Protect your workforce as they return to work
CargoWise have a range of products available to protect from COVID19
It is essential, as employees return to work they will need reassurance that they will have adequate protection from Coronavirus. Cargo-Wise have a range of products available that will provide protection and reduce the risk of infections.
---
RAMSOL Sanitising Spray

CONFORMS TO:
European Standard BS EN 14476 (Antiviral)
European Standard BS EN 1276 (AntiBacterial)
European Standard BS EN 1650 (Can be used in food preparation areas)
Regulation (EC) No 1907/2006, Annex II, as amended
Commission Regulation (EU) No 2015/830 of 28 May 2015.
Ramsol Sanitiser Disinfectant Spray contains active biocides, specifically designed for the cleansing and disinfecting of hard and soft surfaces as well as tested and proven for use on skin. This product delivers residual action control of an extensive range of microorganisms whilst still protecting the skin.
The Ramsol spray is a revolutionary mist spray with fogging technology designed to sanitise and disinfect difficult to reach and intricate areas with full surface coverage.
On 11th of March 2020, the American Chemical Council stated **As COVID-19 (enveloped virus) is a new strain of Coronavirus there is no product on the market today that can claim to be proven to kill the virus. However, products that are effective against non-enveloped viruses (Hardest-to-kill category) are likely to be effective against enveloped viruses.
---
22 Litre Canister
For large areas that need sanitising we supply the Ramsol sanitisation spray available in a 22 litre canister which comes with a 4 metre hose and spray lance and optional trolley.
To give an idea on coverage this canister will sanitise 15 emergency ambulances.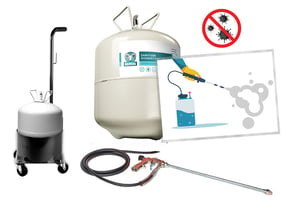 Make an enquiry about this product
---
RAMSOL Aerosol Spray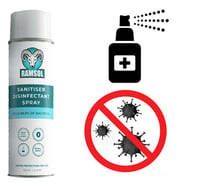 This is supplied as a 500ml can, supplied in cartons of 12 and is ideal for smaller applications.
Average coverage is 15sqm which equates to 10 - 12 standard sized desks.
Please enquire for availability and pricing.
Make an enquiry about this product
---
RAMSOL Sanitisation Station
We have a sanitisation station which can be positioned at various points around workplaces to give staff and visitors ready access to sanitising hand gel which is foot operated.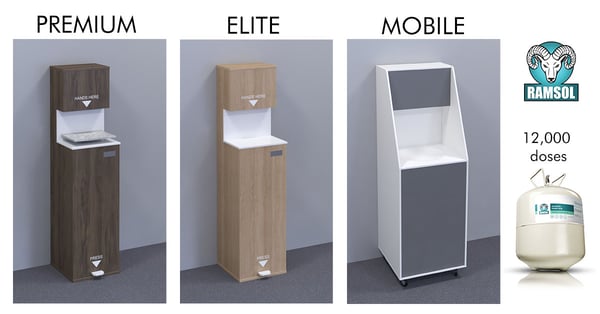 The exquisite design manufactured from durable melamine faced board and quartz acrylic surface for style and durability incorporating a full touch free sanitisation system, for your workspace, reception, office space and all corporate and entertainment areas including café, bar and restaurants.
This can be fully own branded with your own livery and brand message, making you stand as the perfect partner, demonstrating your desire to keep your clients and people safe.
ADVANTAGES
Zero plumbing
Zero electrics
Zero waste
Exquisite Design
Place anywhere
12,000 shots per canister
Anti-theft locking cabinet
Own branding
Touch Free
Please enquire for availability and prices